I've been stocking up on makeup things lately, wanting to simplify my makeup routine for summer. My goal was to pare down the amount of products, since they're probably all just going to melt off my face anyway in this heat!
So, here's my current make-up routine. I tend to like a really neutral palette, similar to how Olivia Palermo does her makeup. (Does that girl ever NOT look great? Not that I look as good as her, btw. I just hope to.)
I start with Garnier's BB cream, which is really more like a tinted moisturizer. I use the "Medium/Deep" tint. ($11)
Then use e.l.f. 's contouring blush from the "blush and bronzer duo". It's a really good knock-off of this famous (and much pricier) duo. ($3)
Next, I use a blending brush to blend in Benefit's Erase Paste in "Medium". A little goes a looooooong way, so it was definitely worth its higher price. I've had the pot of it for three months now, and I've barely made a dent in it. ($26)
I have a really hard time with eye shadows and liners turning silvery or bluer in tint than they really are, so I've started using Urban Decay Primer Potion on my eyelids. My eyeliner stays put! It's amazing! ($20)
Next, I brush a neutral, matte eyeshadow all over my lid. Right now, I like e.l.f. Mineral Eyeshadow in "Natural". ($3)
Then, I line my eyes with a long-lasting gel liner. I just picked up YSL's long-wear eyeliner in Deep Black. ($25) I use this brush to apply it. Sometimes, I wing it, but usually, I just widen the line a bit on the outside and stop at the corner.
To finish the eyes, I curl my lashes and use L'Oreal Extra Volume Collagen Mascara. I've probably tried every drugstore mascara, and this is hands down my favorite. It amps up the volume without giving me spider eyes! ($6)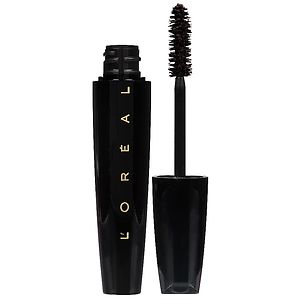 I finish up with a pale pink gloss, like L'Oreal's Colour Riche Le Gloss in Golden Splash. ($6)
I just counted this up and realized that all 8 products total exactly $100. That might seem pricey, but since this is really how I'm doing my makeup every day, I feel okay about it. All of it will certainly get used! And I like that I've reached a point of knowing what drugstore products really work, and what products I need to spend a bit more on in order to get better results.
How do you mix it up in your makeup bag?